Over the past 3 years, my partner Elfi and I have been working closely with the Malay/Muslim market.
This was a decision we took with purpose, we wanted to help the community do well in Singapore's stable yet profitable property market.
The Malay/Muslim community is growing stronger in financial terms. Salaries are going up. Both spouses are working.
At the same time, more are becoming more savvy and educated in investing knowledge.
Over the past 4 years, we have: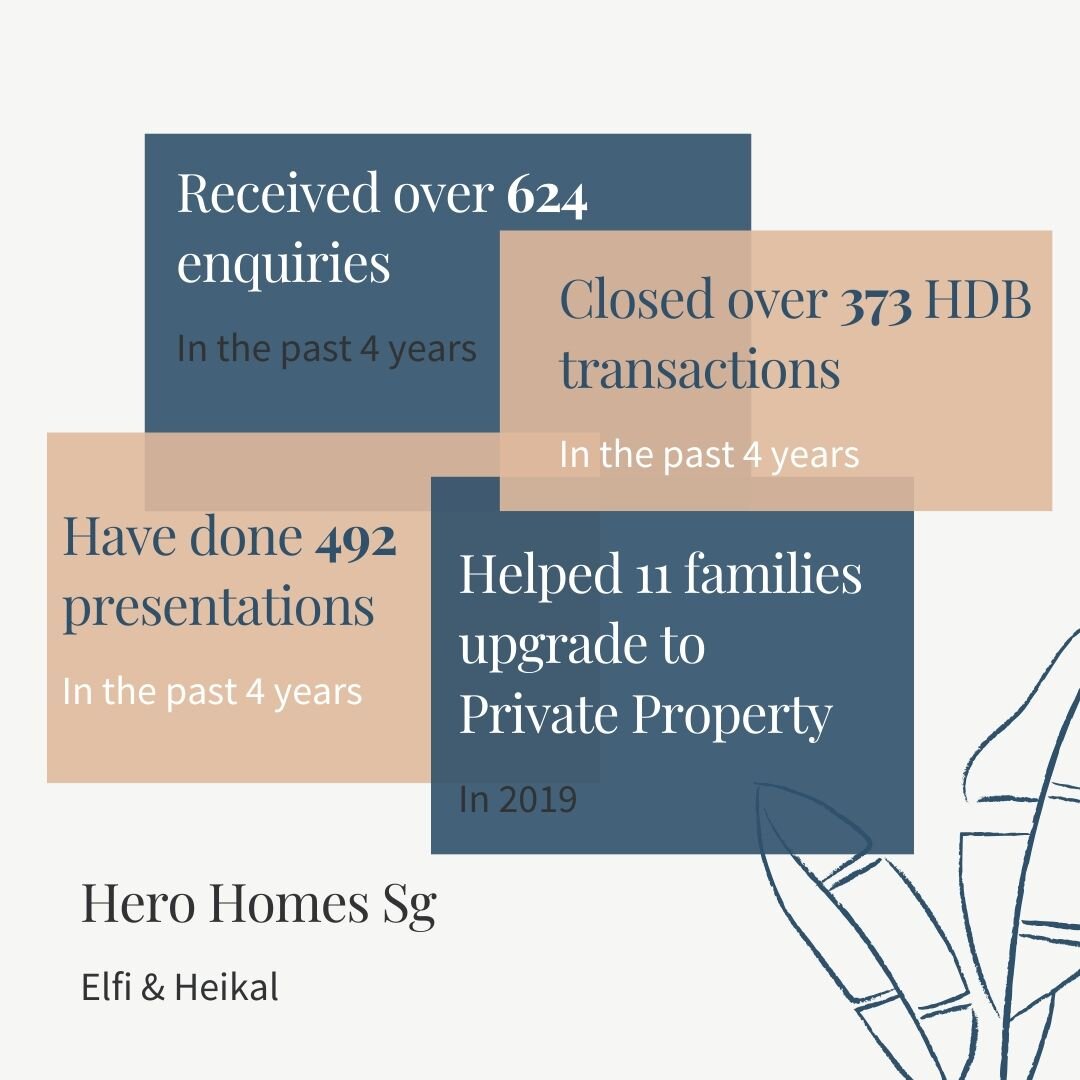 We have the privilege to be the guide for so many Singaporean Malay/Muslim families in their property journey.
With every new family we meet, we expand our experience and knowledge.
Not every family we meet is financially capable of moving to private property.

At the same time, not everyone who can financially afford to do it – make the leap.
Everyone has their own unique background, different growing-up experiences and thought processes.
For us – we merely help support them to make sure they don't drop into a financial hole or make decisions they will regret in the future.
Our goal is to arm them with the solid financial figures and laying out the options available to them. Numbers cannot lie.
This article is to serve as an inspiration and to remind that upgrading to private property is possible.
But only with the right financial numbers and risk management processes in place.
Khairul & Yati
Khairul and Yati are married with 3 kids. Both of them are working in the civil service. The husband works as a Police Officer while the wife is in healthcare.
They are currently in their early 40s and have been staying in their 4-room HDB flat for the past 17 years.
When we first met, they were planning to upgrade to an Executive Maisonette for space for their family of 5.
They were initially reluctant about the idea of upgrading to private property – they don't consider themselves "rich" and were concerned about the potential hidden expenses of living in private property.
Sold HDB
HDB 4-Room Flat (Choa Chu Kang)
968sqft 3 bedroom (We sold their property online)
What Made Them Change Their Mind:
They realized that they could actually afford it. That opened their minds that private property was actually not out of reach.
We helped them to review their financial eligibility at every stage to make sure they could afford the purchase.
Their Future Plans:
They are planning to stay at their private property for a few years.
They plan to monitor their property prices for awhile while they complete the 3-year Seller Stamp Duty period.
Their New Upgrade: The Quintet (Choa Chu Kang) – 1,303 sqft 3 bedroom with Balcony + Poolviews
What Made Them Consider To Upgrade To Private Property:
Over the years, they had saved over $100K in cash for their retirement. But they realized it will not grow as fast if it was simply put in a bank account.
While it was less risky to put in a bank – it cannot hedge against inflation.
They made the decision to park the $100K inside their property. They realized that parking their cash in property would serve them better for their retirement planning.
Inflation can help grow their property prices instead of working against them.
On the day of key collection, their 9-year old daughter couldn't believe that they are now living in a condo, it was so impactful that not only did she cry she wrote a whole composition about the experience.
Since transacting – they have referred 2 clients to us.
---
Yus & Diy
Yus & Diy are in their late 30s. The husband works as a teacher while the wife is an executive at an MNC. They have been staying in their 5-room Tampines HDB flat for the past 10 years.
They have 1 child.
Both of them have a very conservative mindset and believed it was very important to clear their housing loan very quickly.
This is because they have seen the impact on their parents when they bought a property which put them into a situation of still paying for it – even when they were well into their 60s.
When we first met up, they had the conservative idea of buying an EM for the bigger size.
Sold HDB 5-Room Flat (Tampines) 1216 Sqft 3 bedroom (We sold their property online)
What Made Them Change Their Mind:
We sat down and checked their financial eligibility whether they could afford a private property.
The calculations we did showed that they could buy a private property and need not worry about paying their monthly instalments with cash – for up to 15 years!
This was because their monthly CPF OA contributions has built up over the years and it could be used to pay for their private property. They were also concerned whether their existing HDB flat can retain its value all the way until retirement.
Their Future Plans:
They now have a high level of awareness about using their CPF for their condo purchase. Their retirement monies are now being parked in their Pasir Ris condo.
They plan to monitor property prices & once they see profits in their new condo, the will be able to purchase a bigger executive HDB flat and fully pay off before they hit their 50s.
Their New Upgrade: NV Residences (Pasir Ris) 1,227sqft 3 bedroom + study with Balcony + Pocket Seaviews
What Made Them Consider To Upgrade To Private Property:
After selling their HDB flat, they actually viewed both HDB and private properties for their next home. But they realized that buying another HDB flat would also mean another 5-year MOP period.
That meant they can make another move only when they are in their mid-40s.
Hence waiting was not a good idea – they would miss at least 1 cycle to lock in their property gains.
While the husband sees upgrading to private property as an aspirational dream move, the wife wants a better retirement after seeing how her parents are suffering today.
The wife has expressed her concerns when it comes to the monthly expenses. They have heard so many stories about Malay families who upgrade to bigger homes and overstretch unknowingly.
The numbers which they now understood very well – have assured them that it was a good move.
And Today they've tweaked the numbers to create a 14 years safeguard to prevent being in a bad position.
We documented their home viewings on our Instagram Stories Feed:
Today they feel more knowledgeable in terms of how CPF affects them and how it can be used to their full advantage
---
Matthew & Wani
Matthew & Irwani are in their early 40s. Both are working in the healthcare sector and have 1 child. The mother was staying with them – so it was a family of 4.
They initially contacted us to discuss about upgrading to an Executive Maisonette for the bigger space.
Both of them admitted they have zero knowledge regarding property and were unsure if they were making the right plans in this aspect.
What made them change their mind:
When we sat down with them, we discussed their future plans. They envisioned raising their child within the amenities and conveniences of a private condo.
The husband also felt that their block and their estate was too old and wanted to move to a younger estate such as Pasir Ris or Punggol.
Sold HDB
HDB 4-Room Flat in Yishun 904 sqft
We then discussed details in owning a private property for eg the monthly maintenance costs and the monthly mortgage. In their case, they can service the mortgage easily – 100% through their CPF.
Based on our calculations, they had the strong financial ability to afford a private condo. Eventually they bought a sizable condo – bigger than their current flat.
They didn't expect prices of condo to be within their means.
Their future plans:
Being busy professionals, they trusted our plans for them.
Their next move in the future could be to retire in the same condo (sea view) or downgrade to a HDB in their late 50s to enjoy a cheaper retirement.
What Made Them Consider To Upgrade To Private Property:
We structured their purchase for them so they need not worry about forking out cash for their property purchase for the next 11 years.
They also liked the fact they need not spend another $50K for renovation – their condo was in ready-to-move in conditions.
Their New Upgrade:
Oasis @ Elias (Pasir Ris)
1,200sqft 3 bedroom
Balcony + Full Seaviews
I gave a tour of their home in this video:
Conclusion
As Malay/Muslims, we have this mindset that our community is rooted to HDB living. Condo living by default is out of reach for all.
We feel very happy to see our people move up the ladder in terms of their housing. We are glad that they entrusted us to manage their property portfolio and know the heavy burden of that trust.
It is important to plan better than others in this journey, not to be driven by greed and ego only.
As their chosen advisers, we provide the best advice and services to them. In the next 2-3 years, we will meet up with all of them again to review this purchase and see what gains they have made.
This is part of our ongoing support – I have been in the property business for the past 10 years – and I plan to continue to be in this business for the next 30 years if He allows it.
In life, we are encouraged to find the best solutions to our challenges. Explore and find out where you stand financially in terms of your existing property.
If you have the aspiration of buying private property but are unsure if you can afford it – drop us a message.
We will check if you meet the financial eligibility – and if you can't – we will let you know. Buying a condo is not suitable for everyone.