[et_pb_section admin_label="section"] [et_pb_row admin_label="row"] [et_pb_column type="4_4″][et_pb_text admin_label="Text"]
We've been directing our marketing efforts to today's generation of HDB upgraders over the past 3 years.
Majority of the people who responded to our ads will start off with messages like these:
"Hi Heikal/Elfi, I'm looking to upgrade to a Maisonette, not sure if we can afford it. We are currently staying in a BTO flat that will reach its 5 year mark in 3 months time. An agent knocked on our door and said if we don't sell now, our house will lose value…"
Hearing such "news/prediction", will definitely make someone with little knowledge on the property market feel the urgent need to sell off his property.
Questions to ask would be:
(1) Where did these agents "hear" of this prediction,
(2) How true can this "prediction" be?
We've been advocating financial literacy within your property for years. You'll be amazed how much an excel sheet can tell you about your future. Today, information is readily available on news sites and government portals.
Here's an example:
How much HDB supply is there in Singapore now?
Between 2012 to 2020, the number of HDB flats grew at an average of 25,000 units every year. This number is still going strong, with more brand new BTO flats ready for occupation every year.
What happens to a BTO flat after 5 years? The owners are able to sell it off. That means 25,000 new public housing flats are also available for sale every year.
At the same time, our population growth amongst the lowest in the world. (https://www.cia.gov/library/publications/the-world-factbook/rankorder/2127rank.html)
Low Demand For Property + Strong Supply Of Public Housing = Prices Naturally Will Taper Downwards.
That's where our government comes in.
They've introduced an avalanche of housing grants (up to $160,000 for some citizens) to help buyers to easily afford public housing.
In some sense, they're helping to create demand from a segment that would otherwise not be able afford to buy a home in the first place.
Ok hold on, here's a recap of what we're talking about:
Agents are predicting BTO flats will lose its value if you don't sell quickly.
(1) Where did they "hear" of this prediction
(2) How true can this "prediction" be?
Higher Grants = Higher Purchasing Power = Higher HDB Prices?
Since it's inception in 2019, prices have either remained stagnant or gone negative in many resale estates.

Remember: The objective of the grant
"…Housing Grant Is A Major Step Forward In Making HDB Flats More Affordable For All First-Timers," Said Mr Wong.
Channnelnewsasia.com , 10 sep 2019
Housing grants are structured to help the lower income group, it has not translated to higher public housing prices.
Market sentiment for resale public housing flats remain cautious, and buyers are not willing to pay more than what has been transacted. Below would be the price trend of all HDB flats in the past 5 years.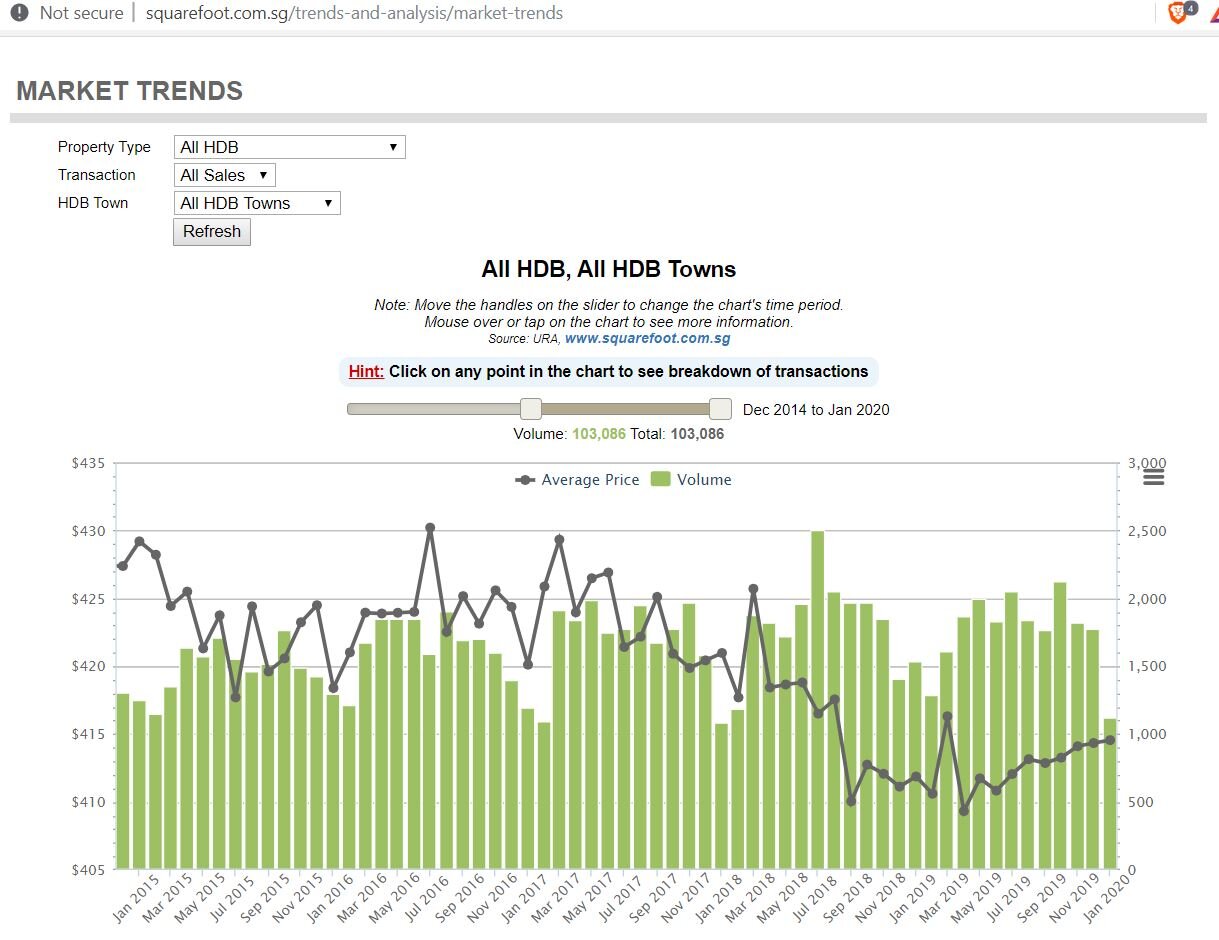 Within 3 months of rolling out of these grants, HDB announced another 19k homes to be built for 2020. Adding on the the 1.06 million HDB flats already built.
In the past, they implemented cooling measures to prevent non-Singaporeans from capitalising in the HDB market and also tightened the affordability to own an HDB. But it seems the slew of BTO supply is the main factor why HDB prices remain to fall.
Even if you have new malls, MRT, schools opening right at your door step, prices remain to tumble.
Just look at the prices of flats in front of Seletar Mall before and after it's opening in 2014.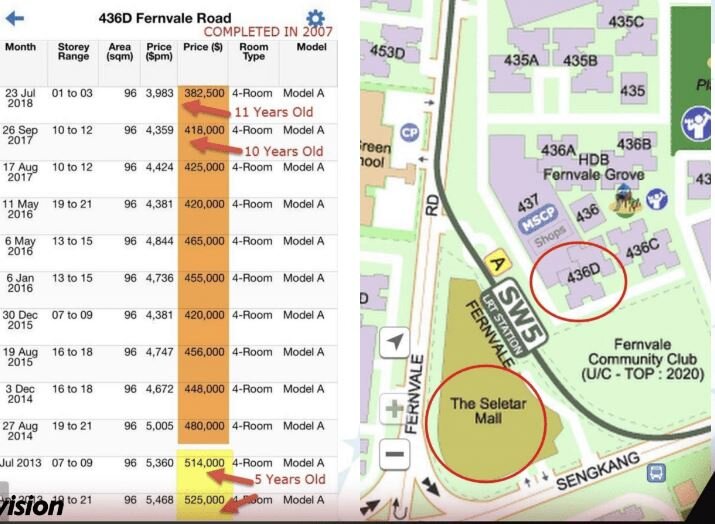 So yes, there seems to be some truth in the "your HDB flat will lose it's value over time".
The Final Question Should Be
(3) How Can You Best Retain Your Profits? Or
(4) How Do You "Roll" Your Current Profits To Grow Into More Profits In Future?
Think about it, when you first balloted for your BTO flats some 7-10 years ago, you spent $10 on the application. From this $10 application till today, how much more cash have you used as your
(1) deposit or
(2) monthly mortgage?
For 99% of my clients that I've met who are employees with CPF, they've not forked out a single cent of their cash. Their HDB has been financed through the use of their CPF savings.
So today when they are about to sell off their property, they are able to walk away with $70,000 to $150,000 in cash profits.
From $0 To $150,000. (Of Course, Let's Not Discount CPF As A Value Of Money As Well)
Given the option to roll these profits into another property that can generate the same amount of cash savings in a shorter period of time, many would still take the safe route of "upgrading" to a bigger HDB flat with a depreciating value.
Today, we've positioned ourselves to learn as much movements in the property market to be able to advise our clients better.
There are those who wish to grow their retirement funds through property are willing to bite the bullet in the name of investment. We're no longer talking about "buying near MRT, buying a freehold surely make money".
When information is readily available today, we need to understand what the developers have always known.
Understanding how land bid prices will impact your investment, knowing that buying a second floor unit might make you more cash profit than a premium high floor pool facing unit, understanding how neighbouring condos can also impact the value of your property in 3 years time.
So much knowledge to consume, but we're only worried about… "Bro, your HDB flat price sure drop, when want to sell??"
[/et_pb_text][/et_pb_column] [/et_pb_row] [/et_pb_section]