If you're looking to upgrade to a Private Property and move in immediately, you might consider purchasing a resale property instead of a brand new launch.
One reason would be the new 3-bedroom properties are often seen to be too expensive over $2mil. it's important to weigh your options and we have done the research for our clients, who are trying to decide between purchasing a newer (5 to 8 years old) or an older (over 10 years) resale Executive Condominium (EC).
They want to find out which option is a more worthwhile investment, and we'll be sharing the findings with you. We have compared two options – a 17-year-old Executive Condominium (EC) named Park Green, and an 8-year-old EC named Austville Residences.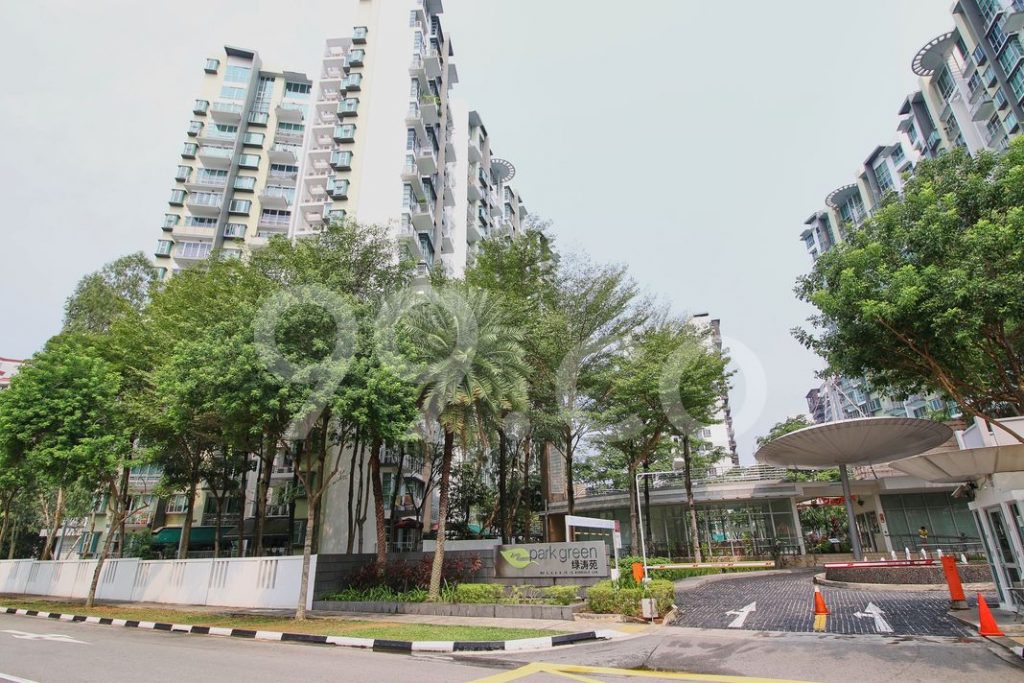 They were keen on Park Green initially, but concerned about the impact of age on future resale value. Park Green is a mid-sized development of 391 units on a large 180,000 sqft of land. It is 10 minutes' walk from Buangkok MRT and offers spacious units, averaging 1,300 sqft for a 3-bedroom unit.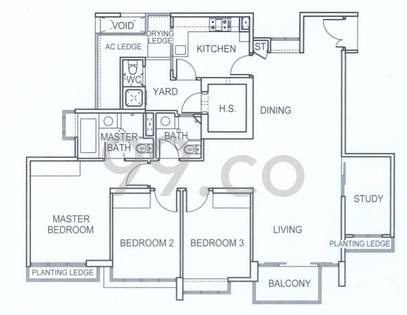 The units have a spacious layout with a dining area, living room, balcony, and yard, though they unable to accommodate an open-concept kitchen (a trending reno option today).
Austville Residences, on the other hand, is a higher density project with 540 units on a similar 183,000 sqft of land. It is an 8-year-old development in 2023 and offers modern resale units that require no renovation – unlike older condos like Park Green which may require $60-120k renovations upon moving in.
However, the younger units in Austville are smaller and may not have features like a yard, which may result in a need for more storage space and make the unit feel cramped. The larger balcony space in Austville offers a better lifestyle, but the efficiency of the space is questionable.
The difference in size between a 3-bedder unit in Austville (1,100 sqft) and Park Green (1,300 sqft) is significant, with the latter offering 200 sqft more living space. The extra space in Park Green can be especially useful for those who need a storage room.
Efficient use of space is crucial, and a 1,300 sqft unit in Park Green is comparable to an executive HDB flat, while a 1,100 sqft unit in Austville is similar to an older 4/5-room HDB flat.
The question remains, is it still profitable to buy a 17-year-old Park Green or an 8-year-old Austville?
To answer this, let's look at the historical transactions of Austville and Park Green, which are EC 9 years apart. Through URA's records, those who bought a resale in Austville in 2019 and sold 3 to 4 years later made $200-250k or 5-9% of annualised profits.

Buyers who purchased resale in 2019 made higher annualised gains compared to the first movers who bought from the developers and could sell only after the Minimum Occupation Period (MOP).
For example, one person bought Austville when it was 5 years old (2019) and sold it just 3 years (2022) later for a $265,000 profit or 8.6% annualised. Compare that to one owner who bought in 2011 and sold in 2022 for a healthy $253,000 but just 2.7% annualised.
When it comes to Park Green, the profit yield seems mixed for those who bought in 2017 when the project was 14 years old. For the same unit type, one owner sold it off in 2022 for a $450,000 gains or 9% annualised profit.
The annualised gains in Park Green is similar to Austville's 5-9%, showing that an older 17-year-old project can make the same as an 8-year-old project in the same time frame.
You'll note that not all of Park Green's owner netted the same handsome profits. Some made just over $100,000. Why?
Age doesn't necessarily dictate the profitability of a resale condo. Other factors, such as market supply and demand, play a much larger role. It's essential to consider the market conditions at the time of entry and exit as it plays a major role in determining profits for owners.
In 2023, there will be an increase in supply with around 20,000 new projects to be completed, such as Treasure at Tampines, which will compete with other resale options.
For example, in 2021-2022, demand was high compared to the low supply of new houses completing, driving up the prices of such resale ECs.
However, with the completion of many new projects in 2023, we expect the market to be saturated with supply, potentially lowering or stagnating the prices of resale EC before a severe supply crunch takes place between 2024-2026.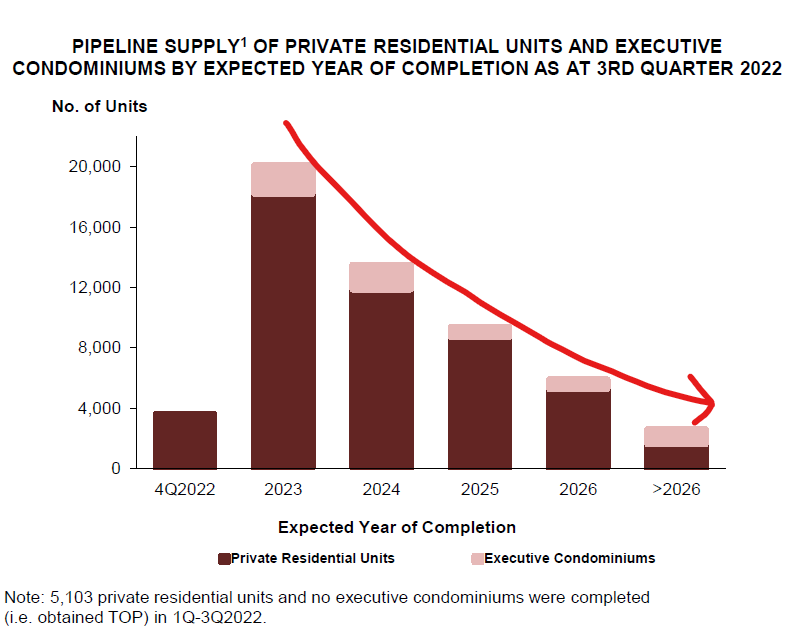 The latest URA graph shows the pipeline supply of private residential units and provides valuable insight into the current state of the market and what buyers can expect in terms of prices. In conclusion, the key factor to consider when purchasing a resale EC is the market conditions and not just the age of the EC.
By keeping an eye on the pipeline supply of private residential units, buyers can make informed decisions and potentially maximise their returns.
This content was first researched for our youtube audience. You may watch the entire video here: